See Categories: |

Inspiring Message from Bishop John Shelby Spong

A recent email caught my eye regarding a very inspiring message from Bishop John Shelby Spong. It should absolutely knock your socks off and give hope to the thousands of folks seeking to explore their spirituality and relationship with God.

The article is entitled "A Manifesto! The Time Has Come!" and can be read in full at:
Walking with Integrity

You can also visit Bishop John Shelby Spong's website directly at: JohnShelbySpong.com

Client Reference(s):
---
comments powered by
---
Whether to Wed - A Legal and Tax Guide for Gay and Lesbian Couples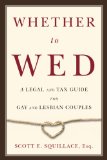 This timely book reviews the status of same-sex marriage around the country and helps the reader understand the full impact of the recent landmark rulings by the Supreme Court, IRS guidelines and other federal regulations with respect to gay marriage. While love may be paramount, Squillace's work helps couples evaluate the pros and cons of gay marriage from a legal, tax and financial planning perspective as they consider whether to wed. The author helps guide the reader through financial issues, like how to think about income tax filings and the effect of marriage on retirement plan benefits and Social Security. Squillace also discusses the impact the marriage decision has on children and the practical legal and tax benefits for families.
UNFAIR: Christians and the LGBT Question [Kindle Edition]
Shore is one of America's leading Christian writers on the subject of gay people and Christianity. His essays are widely credited with being central to the sea change in Christian thinking that has occurred on this issue in recent years. UNFAIR offers the best of Shore's writings on homosexuality and Christians/Christianity, along with heart-wrenching but ultimately inspiring letters from gay people telling what it's like to grow up, and live today, both gay and Christian. The book's opening essay, "Taking God at His Word: The Bible and Homosexuality," is a must-read for anyone seeking clarity on the relationship between the Bible, Christianity, and LGBT people. If you read only one book on this subject, make it this one. (This is the revised and updated edition of Shore's book, "UNFAIR: Why the 'Christian' View of Gays Doesn't Work.")
Gay Marriage: Why It Is Good for Gays, Good for Straights, and Good for America [Kindle Edition]
Two people meet and fall in love. They get married, they become upstanding members of their community, they care for each other when one falls ill, they grow old together. What's wrong with this picture? Nothing, says Jonathan Rauch, and that's the point. If the two people are of the same sex, why should this chain of events be any less desirable? Marriage is more than a bond between individuals; it also links them to the community at large. Excluding some people from the prospect of marriage not only is harmful to them, but is also corrosive of the institution itself.