See Categories: |

Ross Reck's Selling Made Incredibily Easy [Kindle Edition]

If you want to be an incredibly successful salesperson without killing yourself in the process, there's only one way to go - it's called repeat and referral business. In other words, get your customers to do all the hard work for you. This 70 page book will show you how to work smarter instead of harder as a salesperson. The payoff for using this method of selling is simple: You'll be far more successful with far less effort and stress, but most important, you'll feel really good about yourself.


Client Reference(s):
---
comments powered by
---
---
Turning Your Customers into Long-Term Friends: The Secret Sauce that Guarantees Repeat and Referral Sales [Kindle Edition]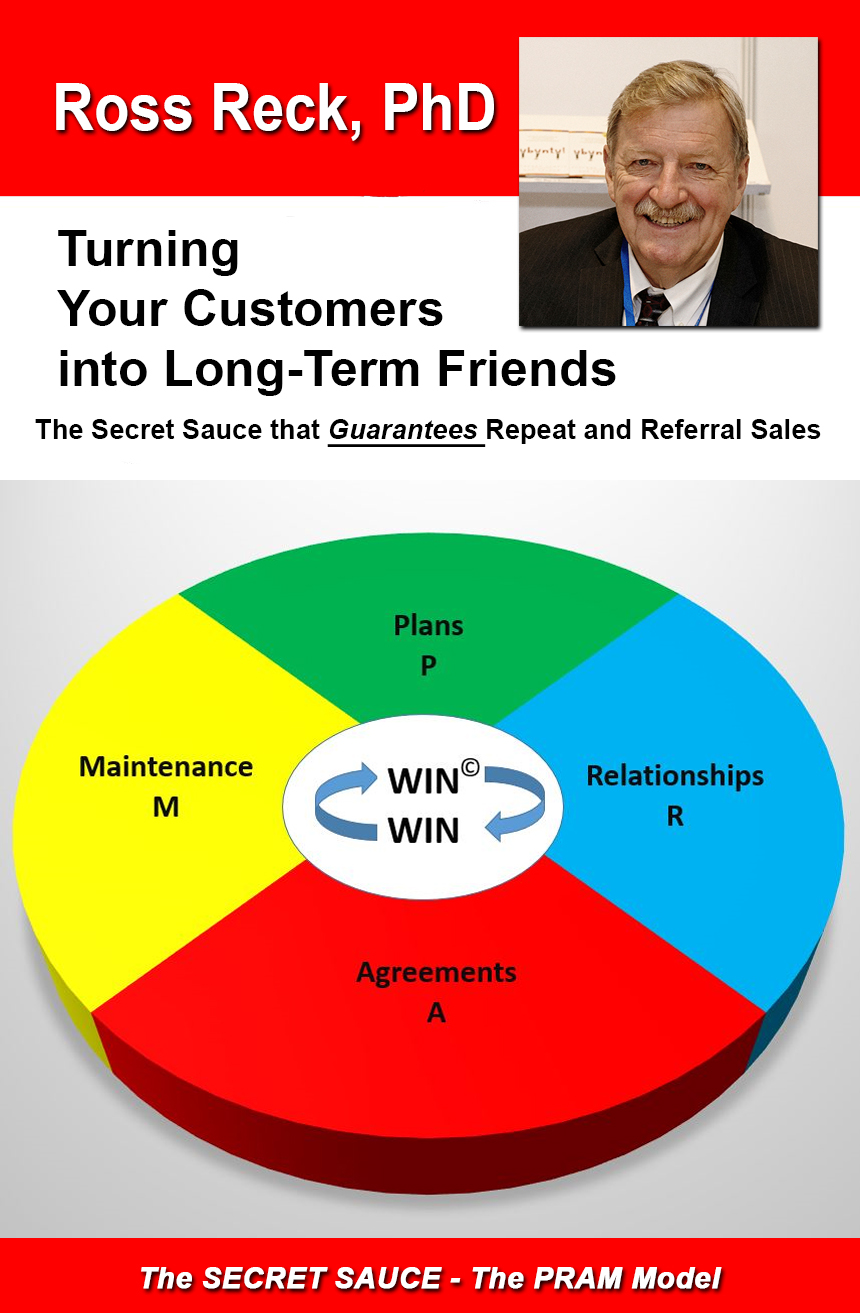 There's only one way to become an outstanding success as a salesperson. It's called repeat and referral sales. It doesn't matter if you're selling cars, real estate, insurance, pharmaceuticals, financial services or farm equipment. If you don't focus your efforts on generating repeat and referral sales, you're going nowhere as a salesperson. Furthermore, there's only one way in which you can get your customers to provide you with continuing repeat and referral sales and that's by turning them into long-term friends.
Let me give you an example: Joe Girard was a car salesperson for Merolis Chevrolet in Detroit. For 12 straight years Joe was listed in The Guinness Book of World Records for being the world's best new car salesperson. During his final year of selling cars, Joe sold 1,425 new Chevrolet cars and trucks! That's 1,425 new Chevrolet cars and trucks sold by a single salesperson during one calendar year!
100% Employee Engagement Guaranteed! (Revised Edition): Introducing a New Management Model [Kindle Edition]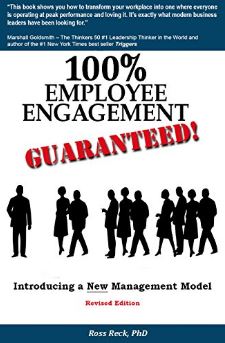 Imagine a workplace where every employee is engaged with their work ... where every employee shows up each day excited about giving every bit of energy, creativity and passion to performing their job. These employees don't need to be motivated because they already are and they channel their motivation toward creating a competitive edge for their company that can't be easily copied. They're constantly making innovative changes to products, services and customer experiences while providing superior levels of customer service which results in loyal customers. This means higher levels of repeat and referral business which, in turn, translates into significant increases in market share. In addition, absenteeism and turnover rates for these fully engaged employees are far below industry averages because they absolutely love what they do. This book presents a new management model that guarantees an employee engagement level of 100%. If you implement this model in your organization, every one of your employees will become engaged with their work; all working at their full potential. Think of what it would mean to the success of your business or organization if you could get all of your employees engaged with their work.
From Soupy to Nuts! A History of Detroit Television by Tim Kiska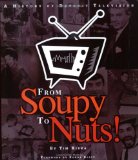 Back in the 1940s – before coaxial cable from the East Coast reached Detroit – television was as local as Vernors, Sanders Hot Fudge and Hudson's. There was room for clowns, bowlers, philosophers, journalists, adventurers, movie mavens, wrestlers and magicians.
The people who put these shows on were drunks, geniuses, thugs, heroes, artists, craftsmen, hustlers and poets. Some were all of these things at times. A few were all these things before lunch.
A Newscast for the Masses: The History of Detroit Television Journalism by Tim Kiska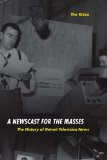 As the chief source of information for many people and a key revenue stream for the country's broadcast conglomerates, local television news has grown from a curiosity into a powerful journalistic and cultural force. In A Newscast for the Masses, Tim Kiska examines the evolution of television news in Detroit, from its beginnings in the late 1940s, when television was considered a "wild young medium," to the early 1980s, when cable television permanently altered the broadcast landscape. Kiska shows how the local news, which was initially considered a poor substitute for respectable print journalism, became the cornerstone of television programming and the public's preferred news source.
TV Land - Detroit by Gordon Castelnero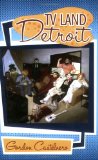 An in-depth and personal look at the most popular and best-remembered local shows from the golden years of Detroit TV. Long before cable, prepackaged syndication, infomercials, do-it-yourselfers, and reality shows cluttered the television dial, there was a brand of entertainment that has today nearly vanished from the airwaves: local TV. And with its colorful and quirky cast of characters, Detroit TV arguably offered some of the best of the best of local programming anywhere in the nation-a smorgasbord of exuberant, one-of-a-kind television shows.Based on actual interviews with the people who made Detroit TV, Gordon Castelnero's TV Land-Detroit awakens the emotional attachment and nostalgia our community has for these shows, bringing the beloved characters and memorable programs back to life.From the glamorous Rita Bell to the insanity of the Ghoul, the zany Jingles in Boofland to the opinionated and often confrontational Lou Gordon and the gruff-voiced and somnolent George Pierrot, Castelnero reacquaints us with the talent and behind-the-scenes people, of the creative spirit in Detroit, and the intimacy they shared with the community both on and off the air.